Supporting language learning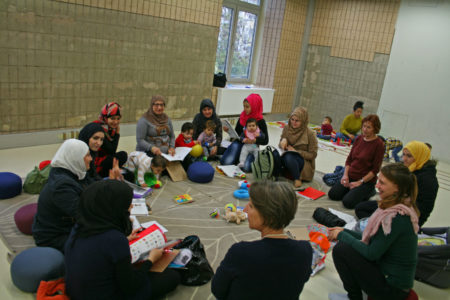 How volunteers support?
Having volunteers in language classes frees up the teacher to focus on the class as a whole. It gives the teacher the time and space to make more linguistic and behavioral observations, which can then inform lesson planning.
Volunteers can help supplement formal learning. Outside the classroom, volunteers may run conversation clubs, different kinds of extracurricular activities, or act as language buddies or tutors. These activities can give students the chance to practise speaking, listening, reading and writing in authentic, everyday contexts (see below for more on this).
In some cases, refugees don't have access to professional language teaching at all. Volunteer language teaching or practice is therefore the only support available. Although volunteer work can't replace a language course, it can help with the first steps in learning the new language and bridge the gap to formal provision.
Volunteers' warmth and commitment cannot be underestimated. Alongside language learning, language classes are an opportunity for refugees to build relationships, be heard and feel supported. They can be a way to find out how to access further opportunities, services and support. Volunteers may be the first members refugees get to know in their new community. Volunteering in this context can be another way of offering a warm welcome to those arriving in the country. The interpersonal side of the work of volunteers can make a real difference.
Supporting language learning: general principles
Some of these skills will come naturally to you and some may take some time to develop - holding silence and making space for students to speak may initially feel difficult or socially uncomfortable. This list may provide a useful resource to return to for self-reflection as you continue to volunteer with language learners.
Download the entire article Useful Skills for Volunteers as PDF file
Download the entire article Error Correction and Feedback as PDF file
Download the entire article Diverse Approaches as PDF file
Download the entire article Safe Spaces as PDF file
Download the entire Toolkit for Volunteers as PDF file
"Volunteering requires a lot of patience and empathy and the ability to treat the learner as an equal."

Volunteer, Denmark
Print/Download:
Entire Toolkit as pdf