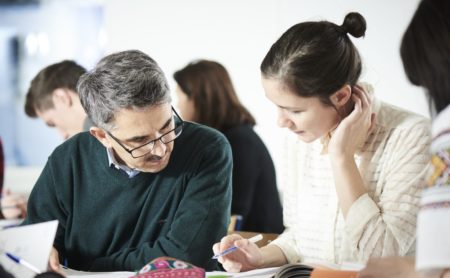 Our research has revealed that a successful induction process is one of the most important things that organisations can do to help volunteers and teachers work well together. Induction can take time, but it's worth the investment - it can save a lot of energy further down the line by clarifying questions in advance and making volunteer retention more likely. A good induction process will mean that volunteers enter the classroom relatively clear about the organisation's values, what is required of them and how the volunteering will work. The induction process should also make them feel supported and valued for the contribution they're making. 
Who should do the induction?
Volunteer induction can be undertaken by a teacher or volunteer coordinator. The advantage of having a coordinator is that they can act as an independent support to both teacher and volunteer in case of difficulties. Additionally, successful recruitment, induction and volunteer training and support requires dedicated time which teachers cannot be expected to have without significant expansion to their roles. A dedicated and skilled volunteer coordinator can therefore help volunteer collaboration work well and avoid overburdening teaching staff.
Even where a volunteer coordinator oversees induction, it is still important that teachers get a chance to meet with volunteers - ideally before they enter their classroom - to provide information about methodology, grading, classroom climate etc.This is also an important part of relationship building between the volunteer and teacher and establishing how they will work together well. If the teacher needs extra paid time to do this meeting it's worth building this into budgets and funding applications in advance.
There is guidance for teachers in our Toolkit for Teachers on how to conduct these one-to-one meeting. The guidance is aimed at teachers undertaking induction without the support of a volunteer coordinator so you may want to adapt this resource to make them relevant to your induction process.
You want to read more about this topic? 
"I learned that some of these women [in the community centre] rarely left their neighbourhood or were not used to use public transport. That's why I started to organise short trips"

Volunteer, London