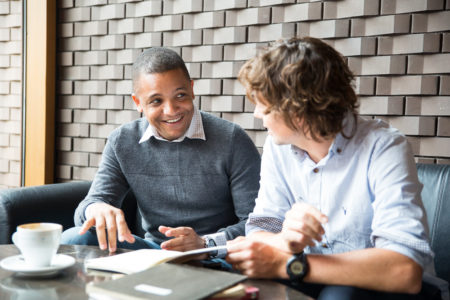 Welcome - Your support makes a difference
Welcome to the toolkit for volunteers. You want to act in solidarity with refugees where you live? Great! This guide is aimed at those who want to give their time and energy in this way. It's focused on language learning because this is a key area where practical support can make a difference.
Why language learning? Refugees face many challenges arriving in a new country, and learning the local language(s) is usually one of their top priorities. It is key to orientation, building new networks and expressing oneself. Professional language teachers are vital but language learning doesn't just take place in the classroom. The more opportunities language learners have to practise their new language, the better. This means that conversation partners are a valuable resource in the process of language acquisition. This is one area, of many, where volunteers can be invaluable.
The toolkit is aimed at both people already volunteering and those who want to volunteer and don't know where to start. The guide will cover volunteering in different contexts: supporting a classroom teacher, providing activities outside lessons and 1-2-1 support and buddying. It will speak to volunteers working with an organisation and those who want to organise something volunteer-led. It is for seasoned volunteers, complete beginners and anyone in between. In short, this is a guide for all those who want to give their unpaid time to support language learning for refugees.
The guide is informed (and inspired) by research into language teaching and volunteering across Europe. This research has highlighted different methods that volunteers are using to support refugees' language learning and the best ways they can offer support
 We hope the exercises, tools and thoughts in this document will support you to make the most of your volunteering and become as effective and useful as possible. We'll do this by discussing the qualities and skills that make a good volunteer, informed by input from teachers and students. We'll give you an overview of useful language learning basics. We'll also include opportunities for self-reflection on your personal qualities, skills and behaviour that you can return to regularly to continue to improve your practice. Finally, this toolkit contains ideas of activities that we have collected from real life examples of innovative language support happening across Europe.
"Volunteering requires a lot of patience and empathy and the ability to treat the learner as an equal."

Volunteer, Denmark