Self-Reflection before you start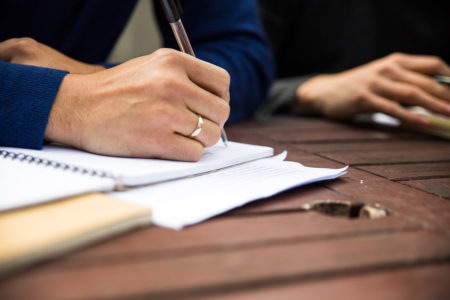 You want to volunteer in the field of language learning? Great! Here are some points to reflect on before you start. Get more clarity about your motivation - you'll be more likely to find volunteer placements that suit you and avoid disappointment. To provide support based on solidarity and respect, it might be helpful to consider the following:
"I'm volunteering because I want to support refugees…"
Firstly, focus on solidarity rather than help to inform the flavour of your support. Solidarity means respecting the capability, autonomy and dignity of the refugees you work with while also appreciating the multiple oppressions and difficulties they may be facing. Solidarity means acting by their side, at their invitation.
By volunteering with language learners, you can offer something of real value - you will be helping people acquire a new language. This can make a real difference to refugees' lives, but students may be facing difficulties in other areas as well. It's understandable to want to help - that's why you're volunteering in the first place - and it is important to know your personal limits. This is especially true if you're working outside the context of an organisation with less accountability and support. (Cross reference: Don't stay alone) You will not be able to solve all the problems language learners face.
"I've got spare time"
It's great that you're motivated to volunteer! Having the time to do so is a must. If you are not too sure whether you have the capacity to volunteer in language learning consistently, look for volunteering opportunities that allow for a series of one-off or short term time commitments. Generally speaking, working in the fields of language learning means in most cases building up trust with the learners in order to create a good learning atmosphere. (Cross reference: PDF Safer Spaces) If you are not reliable, and have to cancel commitments at short notice, you may become more of a burden than a help.
"I want to develop my teaching"
If you are training as a teacher, volunteering can give you the chance to assist a language teacher in a classroom setting and gain experience. Teachers may even agree to give you references to help you find work or pass your course.
We would not recommend running formal classes as the sole teacher in a voluntary capacity. Teaching language requires considerable expertise and training. In a national context in which there is some paid provision, volunteer-led formal provision can undermine the sector and be used to justify funding reductions to properly funded classes for refugees.  Sometimes, of course, refugees have no other access to language teaching and in this case volunteer provision can fill this gap.
Do you want to learn more about self-reflection before you start?
Download the entire article as PDF file
"To speak a language fluently also means, that you are able to advocate for your rights and to enforce your will. Only if you can speak up by yourself, you will be able to articulate your specific perspective."

Language Learner, Austria