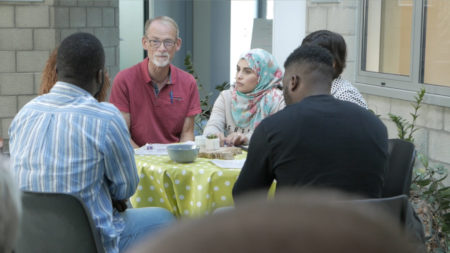 ­There are so many different ways to support language learners as a volunteer. These can be broadly divided into roles in and outside formal classrooms. The list of roles below is designed to help you to reflect on what would suit you best.
Volunteers in the Classroom
In our research, we found a variety of ways in which volunteers across Europe are supporting paid language teachers in classroom settings. Volunteers can stick to one role, or can change function depending on the particular lesson:
Volunteers as Tutors
Some teachers use volunteers to work with learners 1:1, or in a small, separate group, whilst the teacher focuses on the rest of the class. This can be useful where one or two learners have specific needs that are distinct from the wider group. Alternatively, the volunteer can provide time-limited intense tuition to every learner in the class, in turn. They can focus on specific tasks like reading, conversation or specific activities. They can also perform an assessment of students' needs for the teacher. Not all volunteers will necessarily have these skills or are expected to, but it is through discussions with the paid teacher that this is agreed.
Volunteers as Participants (as expert speakers of the language)
Here volunteers are treated as participants and take part in class activities without prior knowledge of the lesson plan or the activities that they're about to get involved in. This can help to establish a sense of equality and camaraderie between volunteers and students and help build their relationships. Due to volunteers' proficiency in the target language, they are likely to understand activity instructions well and can then support other learners to participate.
Volunteers as Teaching Assistants
Some countries such as Denmark have professional, paid teaching assistants, but in many other countries across Europe this is a voluntary role. The volunteers acting as assistants may be trainee or retired teachers themselves. They assist the teacher in lesson implementation, which may include monitoring, supervising, error correcting and other support. Volunteer teaching assistants may even be involved in lesson preparation.
Volunteers as Extra Support in a Specific Field (not directly connected to the language acquisition)
Many volunteers make language learning possible by supporting in a specific field as for example childcare or administration. These volunteers might not be involved in the language acquisition directly, but without their engagement, certain groups would not have access to the language class.
Volunteers in Extra-curricular Activities
Volunteers may also run extra-curricular activities that sit alongside classroom provision. For example, teachers can signpost students to the volunteer-run activities happening outside formal classes. Good communication may allow volunteers to plan extra-curricular experiences or activities which complement what students are learning in class. Examples of such activities include:
Volunteers Supporting or Organising trips for Learners
Since we know that language acquisition does not only take place in the classroom, it can be useful for students to undertake trips. Learning the names of the fruits in a book is one thing, but buying them at the market is something else. Learning the directions in the classroom is fine, but wouldn't it be nice to test out this language in the streets and the subway? Volunteers can support such excursions or even organise them themselves.
Volunteers as Buddies
Buddy schemes are a popular format in many projects. Volunteers and refugees are matched at an initial event, and then meet up autonomously on a one-to-one basis. Some projects offer supervision or group activities for all participants in the programme alongside the one-to-one meet ups and mentoring. Language learning is not always the main focus of these projects, but the buddy is still a very important conversation partner for refugees. Patient listeners are a valuable resource for every language learner.
Volunteer Contacts for Leisure Activities/Sport Clubs
Volunteers who are part of sport or interest clubs can support language learners by acting as a point of contact to welcome refugees to the club for the first time. Participating in activities around a sports club or gardening project can benefit wellbeing, help learners build new relationships and give them opportunities to practise their new language in 'real-life'. After all, sharing interests, talents or passions with other people is a wonderful starting point for conversation and connection - regardless of language barriers. Contact language teachers to see if they can signpost learners towards the club or activities. Better still if the teacher is willing to invite the volunteer contact person into the classroom to talk about the club/activity and break the ice.
"I have really enjoyed Volunteering. I discovered a way of being and learning together that was very special - wholeheartedly generous - and fruitful beyond my wildest dreams."

Volunteer, UK